Jip & Janneke, the most famous toddler heroes of Holland. Not many people grew up without their adventures. The combination of relatable stories of Annie M.G. Schmidt with the black and white illustrations by Fiep Westendorp is still a great success.
The two silhouettes made their first entrance in "Het Parool" in 1952; which back then started as a dutch resistance newspaper against the nazi's in World War II. In the very first story, Jip got a new neighbour; a little girl next door named Janneke. The two get along very well and together they experience the most fun adventures, with dog Takkie and cat Siepie. The stories of Jip & Janneke appeared every week as a short episode on the children's page of Het Parool. After every year they bundled the new episodes into a book, which was published by "de Arbeiderspers".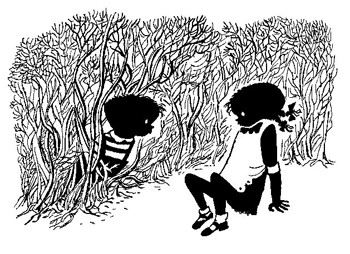 Over the years, Jip & Janneke have been through some changes. Fiep Westendorp decided, for instance, that the necks and tall bodies don't really contribute to the drawing. She decided to refine the illustrations. It resulted in how we know Jip & Janneke nowadays.
The classic Jip & Janneke book by Annie M.G. Schmidt and Fiep Westendorp as we know it didn't appear until 1977 when it came out as a collection bundle. Today we have reached the 47th edition of the book and it is still one of the best sold children's books of Holland.